Jason Archer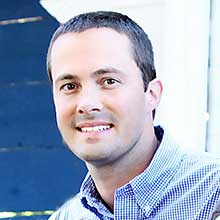 I have been on Young Life staff for twelve years. My wife Rachel and I have lived in Wichita Falls for all of those years. We have two kids, Emma (6), and Graham (4). We've been going to Grace for ten years. I love hanging out with my high school guys, laughing, playing video games with them, and watching sports. Something you may not know about me is that I have been in a fantasy football league with some good friends for eleven years. I love beef, and fishing for large mouth bass. One of my favorite things to do is sit around the dinner table after a good meal and laugh and tell stories until it's way too late.
Scripture Passage
Psalm 103:2–5, 11–12 Bless the Lord, O my soul, And forget not all His benefits: Who forgives all your iniquities, Who heals all your diseases, Who redeems your life from destruction, Who crowns you with lovingkindness and tender mercies, Who satisfies your mouth with good things, So that your youth is renewed like the eagles. For as the heavens are high above the earth, So great is His mercy toward those who fear Him; As far as the east is from the west, So far has He removed our transgressions from us.
Big Idea
To walk with Jesus requires faith. A vibrant faith requires having a good memory.
Devotional Reading
I have a friend that often says, "Faith is having a good memory." I think he is on to something. All through scripture we see the Lord reminding His people of who He is and what He has done. They turn away from Him. He sends someone to give them a history lesson on how He has always shown up. It seems this is one of our biggest problems as believers—our memory. The psalmist says, "Forget not His benefits." Don't forget what He has done for you. Then He walks us through our life with Him.
First, He forgives all our sins. He deals with the biggest problem we have. The separation between Him and us has been closed. He bridged that gap with his Son's blood. He forgave all our sin. Remember that? Then He deals with our physical life. He works to bring our body and life back from the pit—the place we lived before we were forgiven. For some of us, the pit was a dark, dirty place that we never want to go back to. For others, the pit may not seem that different from life now. But don't be fooled: a life without Him is not real life. It is a lonely, hollow place. A pit. Don't forget!
Now He gives. Do you think of the Lord as a giver? He gives us love, compassion, and deep satisfaction. He says, "Do you remember that I love you? It's My choice to love you. And I do." Then He speaks of our desires. We all have desires, deep yearnings inside. The Lord says He will satisfy those desires with good things, proper things, fulfilling things, the things we really want. Only He can do that, and He wants to.
Finally, this scripture passage ends with a word picture. A picture of a great distance, one to measure His love for us and one to remind us how far He has removed our sin from us. We easily forget these two things. When we think we are not loved and are sinful, we put our head down and stop—stop living, stop walking with Him, and stop loving others. But when we remember we are loved deeply and our Father has chucked our sin to the backside of the universe, we are free to live. We can be ourselves. We can relax and remind people… to remember.
Questions for Reflection
What do you most often forget in your relationship with God?
Which of the "benefits" listed by the psalmist stand out to you the most?
How have you seen the Lord satisfy some desires in your life?