Blake Boyd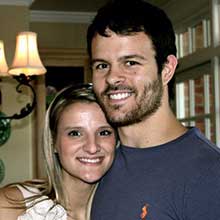 I recently graduated from Midwestern State University. I grew up in Wichita Falls, and developed a strong interest in music at an early age when I learned to play the guitar and joined the school choir. I accepted Christ as my Savior at sixteen and soon began to use music to honor and worship God. I recently married the love of my life, Caroline, and we enjoyed a beautiful honeymoon in Maui.
Scripture Passage
Psalm 27:14 Wait on the Lord; Be of good courage, And He shall strengthen your heart; Wait, I say, on the Lord!
Big Idea
God is in control, and He is on our side. Psalm 27:14 calls us to wait on the Lord, and be strong and patient, even when our world is breaking apart. God has a perfect plan, and we are to be fully dependent on Him.
Devotional Reading
I chose to write a devotional on Psalm 27 because I often find myself easily becoming impatient. In the world we live in today, information is getting easier to access by the second. I think about those web pages that come up while I'm waiting for my page to load that reads, "If the following page hasn't loaded in five seconds, click on the link below." It's almost as if waiting more than five seconds has become a bad thing. Although the ability to access information so effortlessly and quickly can be beneficial and convenient, I often get the feeling my life is like one of those web pages. If I have to wait more than five seconds, I have my own link or alternative to get to my next page. However, getting to the next page on my own usually comes with consequences.
Psalm 27:14 tells us to wait for the Lord, to be strong and let our heart take courage. It tells us twice to wait on the Lord. I think we all can agree waiting on the Lord is not always the easiest thing to do. God sees everything we can't see, and He knows exactly what the finished product will look like. Because we can't see these things, we tend to get frustrated. Maybe a prayer doesn't get answered when or how we want it to. Maybe things don't exactly work out in the time we thought it would take.
This verse calls us to be completely dependent on God at all times, when we are rejoicing, when we are waiting, or when everything is falling apart. Although waiting on the Lord can be a challenge, David offers readers encouragement when he writes, "Be strong and let your heart take courage." In understanding this, we realize everything happens in God's time, not our own. God has a perfect plan. Even when things are at their darkest, the Creator of the universe is on our side.
I encourage you to be strong, to trust in the Lord, to know His timing is perfect even though it doesn't seem that way to us, and to know you are loved far beyond what you can comprehend.
Questions for Reflection
What does it look like to wait on the Lord? To be patient?
Are there situations or circumstances that have caused you to become impatient?
What does it mean to "be strong and take heart," and what does it look like for you in whatever situation you are facing?