Meagan Hoover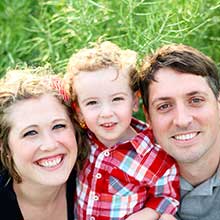 Ben and I have been married six years. I am Mom to almost 2-year-old Grant and expecting baby #2 in October. I am a nurse to pregnant and laboring moms, to friends, family members, and occasionally, strangers, who through conversation, think I may know something about their undiagnosed rash. Ben and I moved to Wichita Falls from Red Raider Land (AKA Lubbock) in 2006 and have attended Grace Church ever since.
Scripture Passage
Psalm 42:1 As the deer pants for the water brooks,So pants my soul for You, O God.
Big Idea
We are created in a way that only Jesus, as we spend time with Him, quenches our overwhelming thirst for more.
Devotional Reading
You know that feeling of immense thirst you have after you've been outside working in the yard on a Saturday afternoon in Texas in July when the thermometer reads 115 degrees? You stagger your way up the back steps into the kitchen to get yourself a drink. There's half a can of Diet Coke from lunch sitting on the counter that you gulp. Doesn't quite cut it. So you reach for your kid's open juice box and drink. The thirst is not as overpowering, but it's definitely still there. Then you reach for a big Fuzzy's Taco white plastic cup, fill it up with ice and freezing cold water, and drink until you are content. Aaah…satisfaction. Thirst is quenched.
The writer of Psalm 42:1 cries out, desiring to experience being with God's people as they worship Him together.
I have noticed I attempt to satisfy my thirst for God with things other than Living Water, not necessarily "bad" things, but things that allow my soul to still pant for Him. Just one more Bible study, I think. Or maybe I need to be more specific about the number of days I'm in His Word every week. Oooh…or there's this amazing conference I've heard about. Or if I could just be mentored by HER.
While those are all tools to help fertilize the branch to increase the fruit it bears, they don't give life to the tree itself. Only God can do that.
The author of Psalm 42 felt separated from God and His people. In the midst of his separation, he realized his deep longing for God could be fulfilled only BY God.
While I wasn't exiled from anywhere, I voluntarily sat myself on the bench and told my unbelievably understanding and loving Coach that I needed a break. He gently told me to take a breather, rest up, rejuvenate, get a drink, and let Him know when I was ready to play again.
It was during that time I realized my one true desire was Jesus, knowing Him more,learning to let Him love me in the most beautiful, pure, and quiet way by sitting with Him and listening to what He had to say. He could teach me the most personal lesson I could imagine while I was sitting, hanging out with Him.
As I'm getting back into the game, I am consciously aware that only He can quench my thirst, not another activity or another study, not even increasing the "quantity" of time with Him at this point. Just by drinking in His peace and joy, by being still and sitting with Him, can our needs be met. Aaah…satisfaction. Thirst is quenched.
Questions for Reflection
On a scale of 0 to 10, 0 being not thirsty at all and 10 being extremely thirsty, how would you rate your thirst for God? Are there things you are involved in, do, or use to try and fulfill that thirst for Him?
Think of a time when you were sitting and peacefully listening to Jesus and spending time in His presence. Describe the state of your heart and mind during that time.
How would your spiritual life be different if you sat yourself on the bench when you needed replenishing? Your family life? Your marriage?