Mehgan Rhine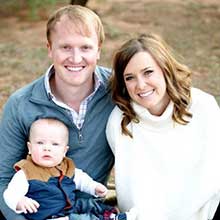 I was born and raised in Wichita Falls and started attending Grace at a young age along with my family. I received my teaching degree from MSU in 2008. This is my fourth year as a kindergarten teacher at Fain Elementary. I have been married to my high school sweetheart, Kevin, for almost five years. God blessed us with our sweet son, Crew, last April. He has truly changed our lives, and we are still amazed God chose us to be Crew's parents!
Scripture Passage
Psalm 62:5–8 My soul, wait silently for God alone, For my expectation is from Him. He only is my rock and my salvation; He is my defense; I shall not be moved. In God is my salvation and my glory; The rock of my strength, And my refuge, is in God. Trust in Him at all times, you people; Pour out your heart before Him; God is a refuge for us. Selah
Big Idea
Christ is the only One who can truly fulfill us. He is perfect. He never changes. Because of this, I am confident He will walk with me each day.
Devotional Reading
There have been so many times in my life when I've found myself putting my trust in things other than Christ. It's easy to put my hope in things such as my job, money, status, success and even relationships with my family and friends. I know God tells us these things are good, and they are gifts from Him. They can be beneficial to His kingdom. But it becomes a problem when I put my hope and trust in these things, above my relationship with Christ. I keep going back to the word "trust" over and over again.
Trust is a difficult thing! When I put my trust in earthly things, it's easy to get discouraged when things don't go my way. We are all human. We all fail. It's not fair to the people in my life for me to expect perfection from them. Christ is perfect in every way. Why would I not trust Him at all times? He gave me the ultimate gift by sending His Son to die on the cross. He has never failed me, and He promises to love me and provide for me. He has never given me more than I can handle, and He is teaching me who He really is through all the experiences He brings me through. He is the One I can completely rely on, put my full trust in, making me confident of who I am in Him. He will never leave or forsake me. He is truly my rock. He doesn't budge. EVER!
I can go to Him with everything and be confident He will see me through it. He will give me the strength, courage, and ability to be okay no matter the circumstances. I am His child and He loves me. What a freeing feeling!
Questions for Reflection
What are you putting above your relationship with Christ?
Why are you hesitant to trust Him completely?
What are some attributes of Christ that will remind and encourage you to trust Him daily?