Craig Henderson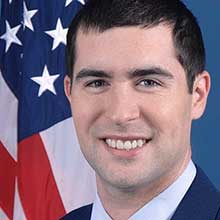 I am from Cary, North Carolina. I grew up with Christian parents and attended a strong church. I attended Word of Life and Moody Bible Institute. A little while after college I joined the Air Force as a Biomedical Equipment Technician. I am a husband to Danielle, and a father to two beautiful kids, Craig Jr., and Savannah. I enjoy hunting, camping, and tinkering. A couple things you may not know about me is that I ran two marathons before the age of 16, and I love to slalom water ski.
Scripture Passage
Psalm 67
God be merciful to us and bless us,
And cause His face to shine upon us,
Selah
That Your way may be known on earth,
Your salvation among all nations.
Let the peoples praise You, O God;
Let all the peoples praise You.
Oh, let the nations be glad and sing for joy!
For You shall judge the people righteously,
And govern the nations on earth.
Selah
Let the peoples praise You, O God;
Let all the peoples praise You.
Then the earth shall yield her increase;
God, our own God, shall bless us.
God shall bless us,
And all the ends of the earth shall fear Him.
Big Idea
We all need to be aware of God's presence and blessing in our everyday life. Our lives are one way that people may see God's power. Even though He is good and judges all equally, we need to have a healthy fear of him.
Devotional Reading
At the onset of Psalm 67, verses 1-3, we are met with the fact that God is ever present in our daily affairs. Everyone benefits from God's graciousness and His blessings. God uses His work in our lives to display His power all over the world. We are reminded twice in verse 3 to praise Him. It is easy to forget where all of our blessings and good things come from. Even if we do remember that God is good to us, how often do we praise and thank Him in comparison to how many things He does for us?
In verses 4-5 we are instructed to be joyful because God judges all people equally. As you read the news or talk to the people within your sphere of influence, how many of them are worried about fairness or justice? Most people, if not all, are concerned about equality at some level. Think about all the government agencies and laws that are created to promote equality, whether we agree with their definitions or not. Unfortunately, more and more of the events we see in this country and around the world only add to peoples' fears and concerns about injustice, or about the unknown.
What a comfort it is as a Christian to know we can take refuge in the fact that God is a righteous judge, and He will prevail amidst all uncertainty around us. Not only is God a righteous judge, but if we ask, He will guide the nations as it says in verse 4. We know He has a plan for our future, but as Christians, we should pray for the direction of our country, and that God's will be done.
Lastly, we are reminded by the Psalmist again to praise God. Most of the time when you read Bible study books, they tell you that when something is repeated over and over in a passage, it is important. Maybe we should take more time to praise God for what He has done instead of taking so much time to ask for things that maybe are not that important.
In verses 5-6, the Psalmist expresses his confidence that God will continue to be gracious and bless them in the future. The last phrase indicates we need to fear Him, to have a healthy fear of who He is and what He has done for us.
Questions for Reflection
In what ways do you see God's blessing in your life?
How do you personally maintain a healthy fear of God?
How is God's power reflected in your life?